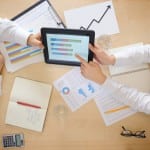 iFleet systems has developed a suite of specialist IT data management systems for the maritime industry. We help companies manage the flow of information between their ships and offices, improving their data handling, document management and reporting systems.
The Cloud hosted solutions we develop are built using a secure development lifecycle that ensures security and privacy is incorporated into services by design, from software development to service operations. This approach results in 5 different layers of security ? data, application, host, network and physical.
In addition to security the services are proactively monitored to help identify potential threats, and also monitored for irregular events that may indicate faults. Microsoft and iFleet Systems restricts production server access to a short list of critical operations personnel.
Our success is to provide bespoke systems that fit the customer?s needs rather than a packaged solution that contains hidden on going additional expense.
In addition we are able to offer IT support services and management services that are tailored to the particular requirements of the shipping industry, with dedicated helpdesk?s and SLA?s we provide a service to both shore and vessels which are second to none.
Parts Management
Using Fleet Broadband we provide access to a secure hosted system in our data centre which means we can avoid the pitfalls caused by having programs and databases on board which generally are updating issues, patches, corruption, backup failure, hardware failure and vessel visits.
Planned Maintenance
Based on the same access as our Parts Management system means maintenance tasks can be added shore side that show on the vessel either vessel wide or on a user level ensuring that tasks are not missed. Planned tasks are setup with workflows that alert users to tasks coming up and tasks that have not been completed.
Manuals for system maintenance can all be stored on the system and made available for download by the vessel.
The Parts and Maintenance modules complement each other and are able to provide full reporting utilities including KRI?s and KPI?s.
Vessel Performance
Data is collated from the vessel that your fleet and produce reports that show up-to-date and accurate information that can be shown in the Fleet Management system or integrated into your current systems.
Vessel Auditing
Data is collated from auditors who inspect your fleet and by using a bespoke iPad application are able to report on the condition of each vessel; these reports are very wide ranging and cover all aspects of the vessel from the general appearance down to engine parts.
Once collated the data is used to produce KPIs and KRIs that allow the fleet to be monitored.
Document Management
Our DM system provides document synchronization from shore to vessel and back again using a variety of file types including the industry standard Microsoft Office suite of products ensuring the vessels are kept up to date at all times, this system is idea for Quality Management and day to day operations.
We design networks that are robust and secure and bring the vessel into the corporate network by using the latest technologies for data synchronization.
We specialise in virtualisation that reduces hardware costs and downtime for vessels.
Ship to shore communications
Using our close working relationship with Globe Wireless we able to provide systems that are tried and tested using the i250 and vessel application software.
We have a great amount of experience supporting their communications and have successfully built networks that complement them allowing for reduce vessel visits by IT staff.
If you are not currently using Globe Wireless then we can advise you of their systems and put you in contact with a dedicated sales manager.
ERP Integration
ERP integration
Enterprise resource planning (ERP) is business management software that allows your organization to use a system of integrated applications to manage your business.
iFleet systems can integrate all facets of an operation, including development, finance, human resources, sales and marketing.
We can provide a solution to help you manage global complexity and make the most of your opportunities.
We support rapidly changing conditions in a demand-driven environment using easy-to-implement workflows. You can use self-service business intelligence to improve demand planning and respond to unique customer requests. And, scale your global business quickly with multisite capabilities and flexible deployment options that reduce risk.
The system is designed to transform your supply chain with powerful connectivity that enables your staff to anticipate and embrace change so your business can thrive.
iFleet systems goal is to provide your company with one central repository for all information that is shared by all the various ERP facets in order to smooth the flow of data across your organization.
Business Intelligence Reporting
Business intelligence KPI and KRI
Once an organisation has analysed its mission, identified all its stakeholders, and defined its goals, it needs a way to measure progress toward those goals. Key Performance Indicators and Key Risk Indicators are these measurements and iFleet Systems will allow you to warehouse clean data to build KPIs and KRIs that are reliable and reflect your organisation?s goals.
iFleet systems can develop and design KPIs and KRIs which can be delivered to your senior management via a wide array of media applications.
Find out how we work together and support IT infrastructure shore side and on board